Shop owners seeking to protect their business from things like theft, damages, and fire will need to obtain adequate shop insurance. Using NimbleFins for shop insurance quotes can help business owners find the best commercial policy.
Structuring shop insurance can be complex, with multiple coverage types included under the policy, and prices can be very different depending on insurers' business needs and product offerings.
Not all shops are the same, and the cost of ship insurance can be affected by many things. For example, the type of products being sold, the number of staff, and even the location of the business can all affect policy pricing.
While many kinds of coverage can be added to shop insurance, most companies will have a minimum of three types that give protection against the most common claims and incidents.
From accidents to loss, many claims fall under these insurance types:
Public liability insurance
Employer liability insurance
Contents and stock insurance
How much is public liability for a shop?
Public liability protects shop owners from accidental injury or damage claims brought by a third party. Anyone who sustains an injury, damage, or loss while on the business premises can claim against the business. Without public liability insurance in place, the shop owner will be personally liable for expenses associated with the claim.
These can include costs for medical treatment, transportation, cost of settlements, or compensation payments. While public liability insurance is not a legal requirement, it makes good sense to have. It may also be required as terms of a commercial lease or by local authorities.
Public liability policies typically offer coverage starting from £2 million, but higher or lower policies can be purchased if needed. Monthly premiums will increase as policy limits rise.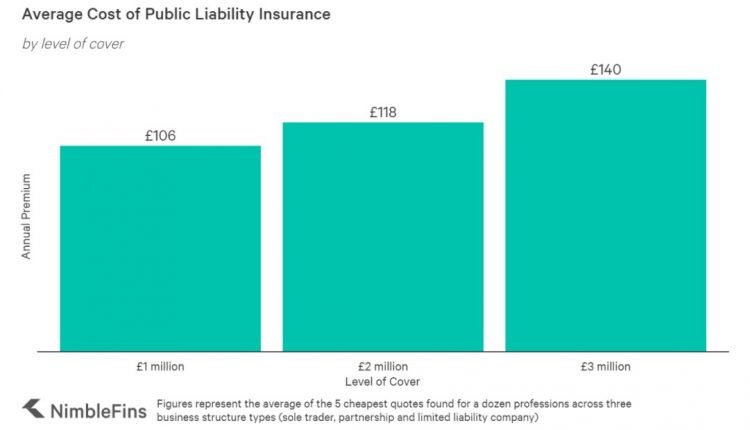 Public liability insurance premiums will also be affected by the type of business being run and the risk of claims exposure. Factors like past claims history and factors like business structure, partnership, limited company etc., will also be taken into account.
How much is employer's liability insurance for a shop?
One insurance that is required by law is employers liability insurance, and penalties can be harsh for not having it in place. This coverage will protect shop owners from claims brought against them by their own employees. Injuries, illness, or any other damage caused by an unsafe working environment can trigger a claim.
If the shop owner is found to be at fault, compensation or settlement payments will be paid to the employee. Therefore, businesses with a high chance of risk or a high number of employees will need to carefully assess the coverage amounts needed to protect them from claims liability sufficiently.
The cost of an employer's liability insurance policy is impacted greatly by the number of staff the business employs. Annual premiums can more than triple when comparing quotes that provide cover for one employee to five employees.
The minimum amount of coverage required by law is £5 million, but many businesses are recently opting for £10 million policies to ensure adequate protection. Higher policies are available for enterprise companies and large organisations with policy amounts rising to £15 million, £20 million or more.
There is an exception to the legal requirement of having employers liability insurance, and that is if employees are close family members working for a sole trader or partnership. However, limited companies will always be required to have employers liability insurance regardless of family relationships with employees.
How much is contents and stock insurance for a shop?
Having adequate levels of stock is essential for shops to be able to provide products to customers and rotate inventory to take advantage of things like seasonal changes or sales. The value of stock and other items will determine the amount of protection that is needed.
Replacing items that have been lost due to theft or damaged in a fire can be an expense that many shop owners just can't afford to pay out of pocket, so having business contents insurance will help to cover these types of unexpected expenses.
Contents and stock insurance for a shop will not only cover the cost of replacing inventory items, but it will also cover fixtures and fittings that are part of the premises. Items like lamps, furniture, table and counters will also be protected under this kind of insurance.
Monthly premium costs for contents insurance will depend on how much cover will be needed. For example, small local companies with limited stock may only need £25,000 of protection, while larger shops with a huge variety of products that carry expensive stock may need £500000 or more.
The cost of replacement will need to be assessed to obtain appropriate levels of cover, and prices will be affected by the type of business being operated. For example, a small card shop will carry a much lower risk than a jewellery store with a high-value inventory.